LED screens have incredibly expanded not just market-wise to the global market but in terms of design and styles. Considering how flexible LED technology is, different types of LED displays showcasing their own pros and cons have been introduced to the market. And one of these unique types of LED displays is the curtain LED screen.
If you've heard of an LED curtain screen then chances are you're aware of the elegant visuals and aesthetics it can offer a space. Whether it's for commercial advertising or simply an addition to a venue's design, a curtain LED display can deliver both effectively.
Using an LED curtain display for whatever function you're thinking about is only possible if you explore your options and learn everything about this type of LED display before actually investing in it. Start by identifying and diving into the basic details of an LED curtain screen and from there, dig deeper to understand better what's up for grabs in this investment.
What Is a Curtain LED Screen?
A curtain LED screen is a type of transparent LED curtain that often hangs on the wall like a curtain, which is how it got its name in the first place. It comes in the form of a hollowed and transparent strip that functions either for lighting or as stylish decor on the exterior of commercial buildings.
You can install a curtain LED display in the face of commercial buildings outdoors, particularly in the following locations:
Building roof
Facade
Poles
Glass walls
But this does not mean that the curtain wall LED display is only for outdoor fixtures. You can also use these screens indoors if you want to.
These curtain LED screens are considered advanced displays showcasing high-definition images and decorations. They can be the elegant element you add to your commercial structure to elevate the look into a place that's worth trusting and investing in.
Features of a Curtain LED Screen
In understanding what it takes to use a curtain LED screen, you should also be familiar with the different features that it comes with. Here are some of the components you need to know about:
Pixel Pitch: 2.6 mm to 7.8 mm (Indoor) and 3.9 mm to 100 mm (Outdoor)
LED Screen Resolution: Depends on the size of the screen (At least a font size of 9 can be shown on the display)
Optimal Viewing Distance: Depends on the distance of the audience from the screen
Weight: Lightweight (At most 25 kg for P7.8/P15.26 outdoor LED curtain display)
Transparency: 30 to 70 percent transparent (see-through) but still depends on the pixel pitch
Brightness: Up to 10,000 nits during the day and innovatively lowers at night
Flexibility: 360-degree folding without the need to use any tool
A curtain LED screen has an advanced LED lighting technology that it considers an edge compared to other LED displays. The smart function in the device that allows the automatic increase or decrease in brightness based on the time of the day is amazing and interesting at the same time. It's one of the major reasons people and enterprises invest in this specific LED display.
Types of Curtain LED Screens
Before you take out some cash and get your curtain LED screen for your office space, take time to know all of your options. There are several types of LED curtain displays you can look into, including the following:
Indoor Curtain LED Display
An indoor LED curtain screen is a flexible display perfect for indoor installation. With its flexibility and lightweight design, it can have a round, curved, or flat surface depending on your fancy. It can also be used in the following applications:
Stage
Club dance floor
Ceiling
Outdoor Curtain LED Display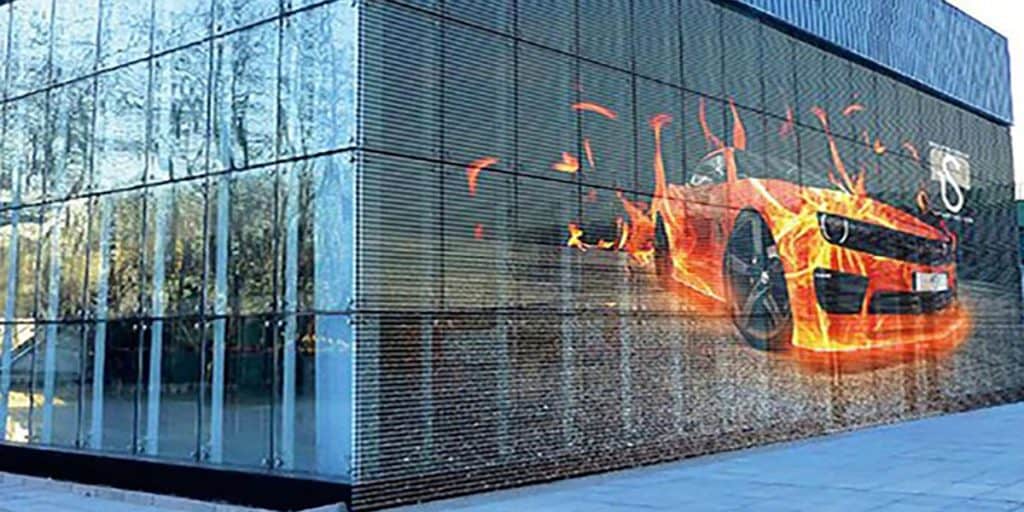 Curtain LED screens are more popular for outdoor installation, especially since it would be a waste to keep this visual masterpiece hidden indoors. With the IP66 protection rating protecting the screen, the screen's excellent heat dissipation and vibrant operations will be very useful.
Many of the outdoor LED curtain displays are installed on the facade of the building, spanning either just a small portion of the structure or covering the expanse of the entire building. They become an ideal choice for this kind of installation not just because of their classy and elegant aesthetics that can transform into a positive reputation for the company but also because of their automatic brightness adjustment feature. This makes sure that even when the sun is high in the sky, people will still see clearly whatever content is displayed on the screen.
Flexible Curtain LED Display
A flexible curtain LED screen simply refers to the type that offers you unlimited freedom in terms of shape and structure. You can bend, fold, and curve it however you like and you also have the option of choosing between flat and curved surfaces.
The flexible LED curtain screen can be perfect for stage application. With its elegant look and stylish aesthetics, they are perfect for the following applications:
Entertainment venue
Stage performance
Luxury disco venue
Fashion and art-related conferences
Music nights
Mobile Poster Curtain LED Display
Curtain LED displays can also be used as a poster, showcasing products and branding for enterprises. Many of them are installed outdoors and have a mobile application to take advantage of its feature where the screen's brightness automatically adjusts based on the environment's brightness and the time of the day. Its mobility also guarantees a wider market reach since it doesn't need to have a wide viewing angle just to be seen by as many people as possible.
Mobile curtain LED screens are often foldable and can easily be lowered or lifted, depending on the need. It often comes in a rolling case to be kept secured and away from prying eyes when not in use. Because of this construction, mobile LED curtain screens make a perfect investment for a screen rental business. They are incredible for the following applications:
Corporate events
Product and branding show
Sporting events
Trade shows
Pool or backyard movie parties
Advantages of Using a Curtain LED Screen
If you're up for using a curtain LED screen and are wondering what's in store for you when using this type of LED display, expect to enjoy the following benefits:
Personalization & Customization
LED curtain screens are structured to easily be customized and personalized. Because of the characteristics of the LED screen mesh, it is soft and flexible enough to be curved or turned into any formation you want it to have. Just make sure to take into account the curtain panel length so that you won't be limited in terms of design and creativity.
Customizing your curtain LED display will turn the screen into a personal project and can deliver the function you want it to accomplish in a better way.
High Brightness & Transparency Levels
A curtain LED screen is popular for its high levels of brightness and transparency. The most common transparency level used in curtain LED displays is set at 35 to 70 percent transparency. Meanwhile, its brightness level can be set to as high as 10,000 nits. Technically, this means that the LED display is see-through but very bright and vibrant that any media content shown on it will be clearly seen even when it's the middle of the day and the screen is installed outdoors under direct sunlight. 
With brightness and transparency set this way, here are some of the positive effects to expect from an LED curtain screen.
Increases light transmission
Reduces viewing angle occlusion
Makes the screen look like a higher-quality display
Convenient Installation & Maintenance
Curtain LED screens are designed in a way where installation and maintenance won't be a liability to worry about. Installation of the displays is conveniently easy and fast, and you won't need to remove screws since they use a shackle connection.
The LED panels are also easy to ship and install since they are lightweight in construction. This is also applicable in the screen's maintenance since you would need to remove some panels for repair when needed.
Cost-effectiveness & Energy-efficiency
Curtain LED screens are highly cost-effective as an investment. While it's true that they may not come cheap, these screens are not expensive to use though. They are energy-efficient and actually have a lesser energy consumption compared to other LED displays, which will help you save money from paying high electricity bills in the long run.
Strong Build & Top-notch Durability
A curtain LED display is structured to have a strong and durable build. Considering it's often used outdoors, many of the screens have IP66 protection that will allow them to operate even when exposed to varied weather conditions, from hot sunlight to strong rainfall. Here are some of the components of their strong protection:
Anti-UV resistant
Class III Electrical Safe
Workable Temperature: (-40℃ for low and +60℃ for high)
Water-resistant capabilities
Improved Heat Dissipation
Does not require cooling AC or fans for operation
Stunning & Smart Lighting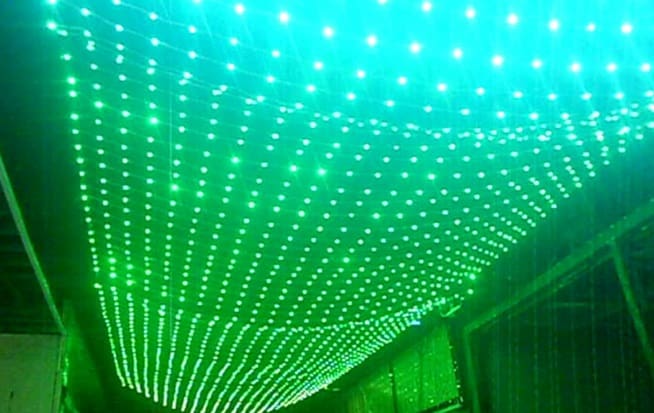 Another characteristic that sets apart a curtain LED screen is its gorgeous smart lighting. It uses a technology that includes the layering of lights, making the entire ensemble look elegant and stunning. The lighting on the LED display is also different when it's day and when at night since it adjusts accordingly depending on the lighting of the environment.
While the lighting seemed less, it actually helped in producing just the perfect lighting condition to look vibrant and clear. Its transparency also allows natural light to help in the lighting of the screen.
Lightweight & Flexible Design
Finally, curtain LED screens are designed to be flexible and lightweight. Its impressive thin composition allows you to easily install the screen without the need for steel structures and cabinets.
Made from pliable silicone rubber, the curtain LED display is easy to bend, fold, and roll, it's also easier for the LED screen to be transported from one location to another. The assembly and disassembly of the LED display is easy so it will not be a challenge to repeatedly use it in different locations, whenever and wherever you need it.
When Should You Use a Curtain LED Screen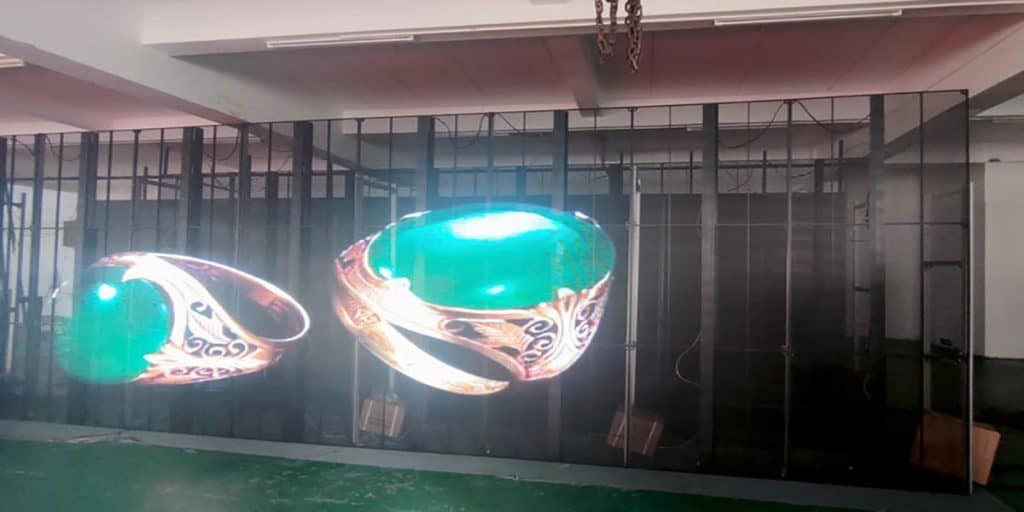 Do you have many curtain display ideas in mind that you want to accomplish? If you don't know when you may need a curtain LED screen, here are some of the situations that might require you to use one:
Catering to a large crowd outdoors
Elevating the look of an office building's facade
Working as a temporary advertisement and promotional poster
Investing in a mobile LED screen for rent business
Conclusion
A curtain LED screen is a new, stylish, and convenient type of LED display that can help you enjoy the use of the technology more easily and cost-effectively. Since it's more energy-efficient than the conventional LED screens, you can expect to pay less for the electric bill. It is also often made from a tough silicone rubber that makes it flexible enough and easy to bend, curve, fold, and roll. This means that the installation and maintenance are also more convenient and a lot easier for you to handle.
This flexible, transparent, and stunning LED curtain screen is most commonly installed in the structure of office buildings and can create a positive reputation for the company that owns it. It can also be used to promote branding and product offers and services. With its flexible build, you can only be limited by the curtain display ideas you have in your mind.