Flexible LED Display
The Flexible LED screen is a soft, bendable, and foldable LED display. it can be assembled into any shape, so it is also called the soft led screen.
The flexible LED module is the basic unit of the flexible led screen. Its PCB, bottom case and mask are extremely soft and tough and can be assembled into curved, round, special-shaped, and creative LED displays, which are quick and easy to install.
It is applicated to hotels, commercial centers, entertainment venues, etc. SZLEDWORLD provides you with the best flexible LED screen solution
Your professional flexible led screen manufacturer
SZLEDWORLD (Shenzhen LED World Co., Ltd) is the best-Led flexible led screen manufacturer, factory, and supplier in China. Provides a full range of high-quality indoor, outdoor, transparent, creative flexible led display screens for different consumer groups and different markets. The soft led modules produced are P1.25 P1.579, P1.667, P1.875, P2, P2.5,P3 , P3.076, P4 and P5.
We fully implement ISO9001: 2015 International quality management system and adopt advanced testing equipment and strict quality control methods to ensure that high-quality products are provided to customers. Our flexible video walls have passed CE, RoHS, FCC, LVD, and other certifications, and are exported to more than 120 countries and regions around the world. We also are engaged in OEM production and processing for many well-known domestic and foreign brands.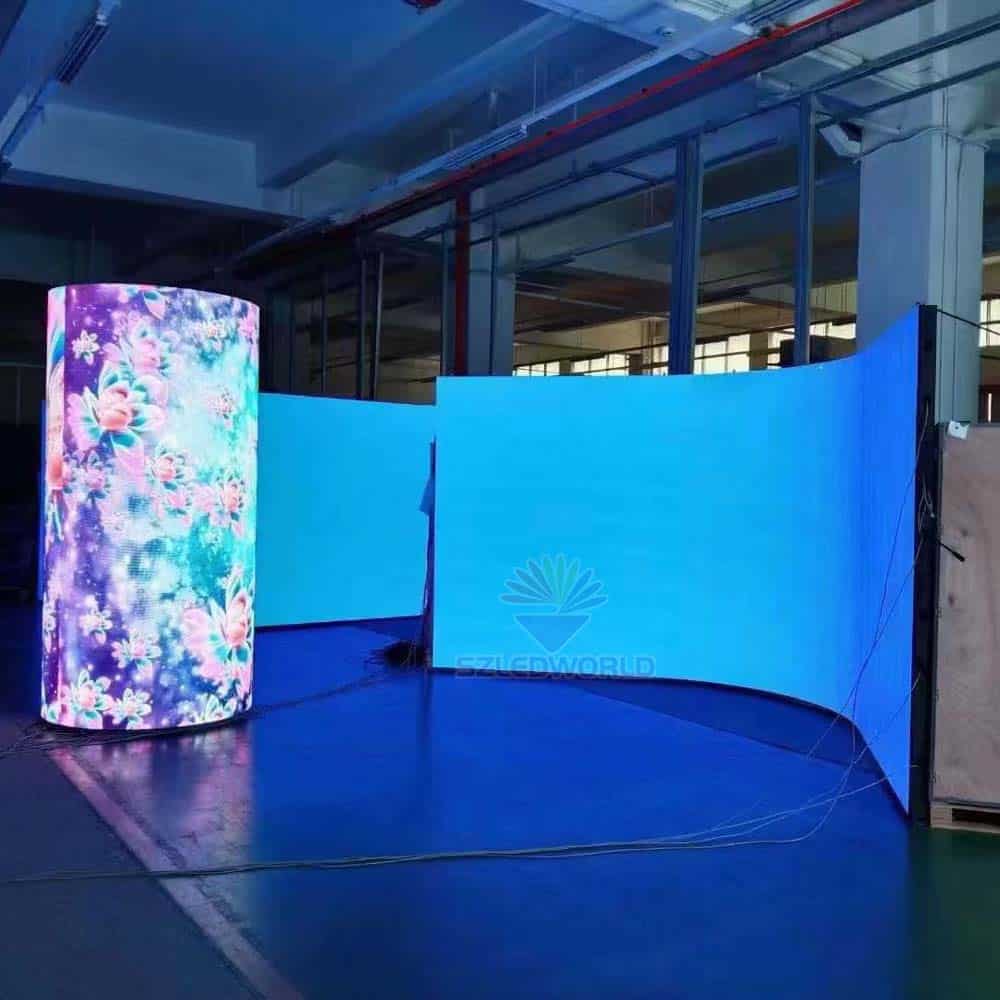 Flexible led video wall
The flexible LED video wall is composed of flexible LED panel units. Its PCB board is made of flexible soft board. The back shell and masks are made of high-quality silicone materials, which are very flexible. It can fit on the raised and recessed installation wall structure with the magnets, and can still reflect the high-quality picture effect;
In any installation occasion, this kind of flexible LED video wall can be designed, it has the following advantages:
Types of Flexible Curved LED Displays
According to the composition structure, the flexible led displays can be divided into real flexible led displays, fixed-curved LED displays composed of conventional led panels, foldable curtain led screens, and transparent flexible led mesh display
True Flexible LED Screen
A single-panel unit is soft and can be bent, twisted, and shaped at any angle. Even with a small arc or strange shape, it can be spliced into a smooth, flexible LED screen with small seams and flatness.
Flat LED Module for Curved LED Screen
It is assembled into a fixed arc by conventional LED modules. A single module unit cannot be bent. It is suitable for fixed installation with large arcs. Compared with flexible led panels, it has a price advantage.
Flexible LED Curtain
Flexible LED module
The flexible led module is also as know soft led module, it is the smallest unit of flexible LED display. It is easy to bend, soft, ultra-thin, and can have small pitch models to present attractive picture effects. According to the application environment, there are indoor and outdoor soft modules, and the installation methods include hanging, stacking, and wall mounting.
Bendable led screen
The bendable feature is due to the fact that its PCB is made of special flexible materials, and it will not break from bending.
It can be bent arbitrarily and can be folded at 120 degrees, therefore, it can be spliced into any shape according to user needs.
Soft led display
The PCB board is made of flexible soft board, and the mask/bottom case is made of high-quality silicone material, So it is soft and easy to shape.
Ultra Thin flexible led screen
The thickness of the module is only 8.6mm, ultra-thin design, and small space occupation. If the installation cabinet is combined with the steel structure, a thinner LED screen can be realized
Small flexible led screen
It has small pixel pitch models, such as P1.2, P1.5, P1.6, and P1.8, which can ensure a clear and moving picture while the product is curved.
Indoor Flexible LED module
The indoor module of the flexible LED screen, in order to meet the different size needs of customers, there are 320x160mm, 240x120mm, and 256x128mm available for you to choose from, view the detailed specification.
Outdoor flexible LED display module
The front and back of the outdoor flexible led screen module are protected by a waterproof adhesive layer and use high-brightness lamp beads, which can be used outdoors directly.
| Pixel pitch | Lamp | Drive model | LED module size | Module resolution | Pixel density |
| --- | --- | --- | --- | --- | --- |
| P4 | SMD1921 | 1/16 scan | 256x128mm | 64×32 dots | 62,500 dots/m2 |
Flexible led screen application
The flexible led display can be used in many occasions, such as shopping malls with a large flow of people, flexible and changeable stage backgrounds, exhibition halls, and hotels.
Hotel shape
According to the space of the hotel, the shape can be flexibly made to attract the attention of the audience and improve the grade of the hotel. According to the needs, there are different pixel pitches for the selection
Exhibition Advertising
Unique shape, eye-catching and impressive, makes you stand out among many exhibitors, and use less cost to make the best advertisement
Marketing Strategy
Shopping mall
The shopping center is one of the places with a very large flow of people. While you have a good product, a uniquely shaped flexible LED display can be used to advertise your product, which will give you twice the result with half the effort
Stage application
The flexible led display can be bent at any angle and can be raised, recessed, or distorted. These characteristics just meet the diverse needs of the stage set and enhance the viewing effect.
Customized flexible led screen solutions
SZLEDWORLD's flexible led display module has different sizes, and can be customized in different shapes of the soft led screens to meet the different needs of customers. Common shapes include the cylindrical led display, streamer screen, spiral screen, curved wall screen, wave screen, etc.
Ribbon shape
Cylindrical Assemble
Arc Flexible LED Screen Assemble
Flex led screen install
With the installation of the flexible LED screen, the steel structure is integrated with the cabinet, which reduces the thickness and weight of the cabinet, so it is very light, thin, and more attractive. Usually, there are hanging, Wall mounting, and stacked mounts.
Hanging
Wall mounting
Stacking
Related Products
WHY CHOOSE US AS YOUR FLEXIBLE LED SCREEN SUPPLIER IN CHINA
Best Quality. We have more than 13 years of LED flexible LED screen research and development, and production experience, to provide you with the most advanced solutions.
Competitive Price. Our raw material procurement is more advantageous, the cost has been well controlled, and the product price is 10% to 25% lower than that of the peers.
Aging Test. The aging time of LED modules exceeds 72 hours, providing you with more stable and reliable products.
After-sale service. Our engineers are at your service 24/7 hours to make you worry-free after sales.
Frequently Asked Question
Got any Questions?
Connect With SZLEDWORLD
SZLEDWORLD is the only company, that can provide LED displays in all forms and custom fabrication services in China. Partnering with SZLEDWORLD provides excellent opportunities to grow your customer base and enhance your revenue by offering INTEGRATED solutions in the LED Wall Display.