The popularity of LED displays has placed this tool on a pedestal, which is how enterprises see them as advertising and marketing masterpieces. They come in a variety of types and are classified based on different aspects, including sizes, designs, shapes, and specifications. One of the most innovative types is the floor LED display. This type of LED screen is incredibly famous for events like weddings, exhibits, and festivals.
For special occasions, installing LED floor tiles will be an incredible addition to the event. Besides being aesthetically pleasing, the flooring will also level up the event. You can use these LED floor panels together with other types of LED displays to make your event grander and more interesting.
Before you check out all your options for a floor LED display, start exploring everything about this type of display. This will help you avoid regretting your decision to either use it or invest in one.
What Is a Floor LED Display?
A floor LED display refers to a screen mounted and installed on the ground. The LED floor screen is designed with a high-strength mask structure that is specially created so that people can comfortably step on these displays. Similar to the construction of most LED displays, the floor LED screen is also made from several smaller LED modules.
Floor LED tiles are built to be stable, load-bearing, and sturdy enough to act as flooring. The screens also have excellent heat dissipation and protection performance that make them perfectly functional even when under specific circumstances. This also means that they are built to last for a long time and so can be a good investment to consider.
Adding a floor LED display to an event has become a favorite among organizers. While the viewing angle forces people to look down, the visual experience is something totally different from what you can experience from a standard LED screen.
Indoor vs. Outdoor Floor LED Displays
Floor LED screens can be used both indoors and outdoors, depending on how they are structured. Indoor floor LED tiles are most often less durable compared to their outdoor counterparts. This is more common than the outdoor LED floor panels because of their more specific design. These screens are also more affordable.
Outdoor LED floor panels on the other hand are built to be stronger and weather-resistant. With more pressure added to the use of an outdoor LED floor screen, it is vital to pay attention to its protective specifications and installation. Make sure to be meticulous in dealing with load-bearing and waterproof aspects.
Interactive vs. Non-interactive Floor LED Displays
Besides indoor and outdoor LED floor panels, these screens can also be differentiated based on their interactive features. Some are designed to be like standard LED displays while others are structured to be interactive. An interactive LED floor screen involves the addition of interactive features to a standard floor LED display. It is a stylish and quirky way to get the attention of viewers and give them a new and exciting visual experience.
Advanced Technology in Interactive LED Floor Tiles
The interactive LED floor tiles used in the display are integrated with advanced technology that significantly increases the value of these modules. Using sensor technologies, the interactive floor LED display can offer more than just a visual experience but also make it more dynamic. Here are some of the tech used in this type of display:
Pressure sensors
Infrared sensors
Capacitive sensors
Before being equipped with these sensors, the interactive LED floor price was relatively higher than the common floor LED screens. The main concept of these interactive floor LED screens centers on the projection principle, which involves the application of VR or Virtual Reality technology for visual prowess and touch technology for a more dynamic experience.
How Interactive LED Floor Screen System Work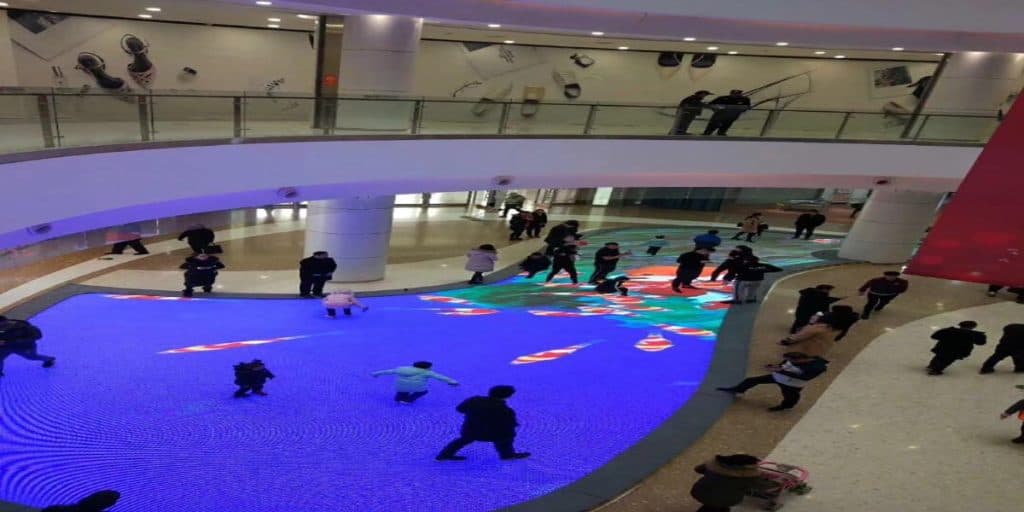 The technologies embedded in an interactive floor LED display play an important role in operation. The entire process of its operation involves signal acquisition and processing and imaging and interaction. It starts with the collaborative functions of all the sensors and the imaging device integrated into the floor LED screen, allowing to capture of real-time movements.
Once the data has been captured, it is sent back to the controller after a system analyzes it. The screen then produces the appropriate images that were programmed to be displayed when the interaction occurs.
Interactive LED floor tiles have become popular because of the elements that make them special and different. In summary, here are some that are involved in the display's operations.
More complex control software
Coordinated information processing
Real-time interaction
Two-way data transmission
Interactive LED Floor Screen Ideal Applications
If you're planning to get an interactive floor LED display, you can actually use it in many ways than just a cool flooring for an event. Here are some of the popular setups where interactive LED panels are used:
Retail stores
Trade shows
Museums
Exhibitions
Conferences
Public spaces
When planning to use an interactive floor LED display, you need to make sure that all the other elements are compatible with its installation. For these interactive tiles, the images and videos that will be shown on the screen depend on the location people walk on and the data programmed on the modules.
Common Advantageous Features of a Floor LED Display
The floor LED display works the same way as a standard LED-type screen. But these are specific features that make these LED floor tiles stand out compared to the common types of LED displays. Here are some of the features you can expect from it:
Visually Aesthetic Effect
Using a floor LED display for any reason, whether as a massive marketing stunt or to spruce up an event, will be an added aesthetic success. The images and videos are guaranteed to show vibrant colors with awesome consistency.
Light, Flexible, and Highly Portable
Floor LED modules are structured to be thin and lightweight for easy portability. Most of these LED floor panels are manufactured using aluminum, a light metal alloy.
Durable, Strong, and Powerful
Considering the LED floor tiles will be stepped on, they are guaranteed to have a strong load-bearing capacity for a maximum of 1.5 tons. This guarantees that the LED screens can handle a lot of weight.
Easy to Install
With the modules' lightweight construction and portability, they are easy to install. You won't need tools and complicated guidelines just to use it. And since a floor LED display consists of smaller modules, putting them together is easy like connecting puzzle pieces.
Easy to Maintain
Once you invest in a floor LED display, make it a point to troubleshoot and invest in the maintenance too. Since these modules often have a frontal maintenance design, they are easy to disassemble and check out.
Highly Customizable
These displays are manufactured using aluminum alloy with a shape that can be personalized based on what you need. The videos and images can also be programmed to whatever you want to be shown.
Non–Slip & Wear-Resistant
Since these LED displays will basically function as flooring, they are designed with excellent protective measures like the PC face shield that allows the screen to be resistant to scratching and defacing. This shield is either manufactured using frosted glass or high-abrasion resin, making it possible to be resistant to wearing, slipping, and scratching.
Besides non-slip and wear-resistant features, a floor LED screen also has high water and temperature resistance. The panels are structured with rubber rings that cover the entire screen, protecting the module against moisture.
Dynamic Interaction Experience
An interactive floor LED display offers an incredible opportunity for adding a more dynamic touch to your screen. This interactive effect will add to the quality of the event you're hosting.
Standard Prices of Floor LED Displays
The prices of floor LED screens are highly reliant on several factors. The most common influential factors are size and pixel pitch. Differences in these two elements can either increase or decrease the cost you have to pay. In general, expect to pay approximately $600 USD to $3,000 USD per panel. An entire project can reach as low as $10,000 USD to $200,000 USD for a massive display.
To get an estimate for your floor LED screen, the best thing to do is to ask for a quotation from your chosen vendor and supplier. Here are some of the things you should know about the prices of some floor LED screens.
Outdoor floor LED screens are often more expensive than indoor floor LED screens
The price of an interactive floor LED screen is higher than a non-interactive one
Floor LED screens with special designs, from naked-eye 3D to transparent are more expensive than a standard floor LED screen
A floor LED display with a more complex design and using more advanced sensor technologies is expensive.
Popular Applications for Floor LED Displays
If you've seen the incredible floor LED display setup at the 2022 Beijing Winter Olympics, you won't be surprised why using a floor LED screen immediately elevates the aesthetics of any venue. Considered the largest recorded, this massive LED screen flooring measures over 10,000 square meters. But you don't need to wait for a grand event like this just to use this awesome display. Here are some of the most common applications for floor LED displays.
Stage Setups
Exhibits
Nothing makes exhibits even more stunning than a floor LED display adding to the aesthetics of all the items displayed. The LED screen flooring offers a more immersive experience for viewers and would be ideal for science and technology exhibits.
Stage performances, from concerts during music festivals to theater masterpieces, can highly benefit from using floor LED displays. The screens can be used as added background, making the entire stage even more realistic.
Malls & Public Spaces
Malls and other public spaces are incredible for marketing and promotions and nothing will stop mall-goers more than a moving floor. Floor LED screens in malls can attract more people to go inside the establishment and enjoy themselves. There are some scenic spots that also feature some LED floor tiles and they can be used to boost a location's tourism in the process.
Special Events
Finally, LED screens can be great flooring for special events. For a wedding, it can be a dance floor LED screen and if you choose an interactive one, your guests will definitely have a good time. A dance floor underground LED screen seems like an interesting addition to your event's specials. You can also use the screen for other important occasions like birthdays, anniversaries, and holiday parties.
Tips For Choosing What Floor LED Display to Use
To help you get the ideal floor LED screen that can help you with whatever you plan to use it for, here are some practical tips you can follow:
Check out the protection level of the LED floor panels and use them based on their installation requirements and environments
Make sure that you choose a floor LED display with good load-bearing capacity, which translates to 1.5 tons
Be meticulous in reviewing the specifications of the LED screens and check out their pixel pitch and size accordingly
Consider getting an interactive LED floor screen if you have enough budget for it (just because it will be a fun purchase) but if you have a tight budget, stick with the basics
Conclusion
A floor LED display is a stunning element you can use for many things, including ads, marketing and promotions, and even simple aesthetics. If you are planning on investing in this advanced LED innovation, take the time to search the market for your best match. Make sure to consider all the requirements and non-negotiables you have set for the purchase. And of course, have fun (especially if you're getting an interactive one)!