Advertising is not as easy as posting an announcement of a product you're selling. Today, with whatever industry or market you may be part of, marketing and promotions have become highly competitive. Using an LED advertising display is one of the clear ways to stand out in this fierce competition.
One of the most important factors for advertising to be effective is the power to catch people's attention. Getting on the news, like the London bus stop campaign, is a clear sign that your marketing efforts are working. Whether you choose awe or humor to catch people's attention, an LED advertising display screen can host your masterpieces. They can harness animations and special effects to help your company move forward and be a leading competitor in its own industry.
An LED digital advertising display can only be effective if it is combined with powerful content so it's important to create an ad that will turn heads. Besides that, there are also other factors that you need to consider when dealing with your LED commercial advertising display screen. For now, start with the basics and learn what it is and how to make LED advertising displays.
What Is an LED Advertising Display?
An LED advertising display is a screen that shows advertising content, whether in the form of text, image, or video. This electronic advertising media is meant as a tool to introduce, promote, or market companies, brands, products, and services.
There are different ways you can use an LED screen for marketing and promotions. You can use a massive LED wall for brand promotion or multiple LED displays for product exhibits. Since the purchase and use of LED commercial advertising display screens require spending, it is vital to ensure that there is a guaranteed return on investments.
LED advertising displays are often installed in high-traffic areas in an effort to get to maximum market reach. The more exposure that these displays have, the higher the chance of these exposures turning into prospects and profits.
Much more than the obvious positive impact of LED displays on an enterprise, there are also aspects that make these scenes an incredible purchase to consider.
Advantages of Using an LED Advertising Display
The best digital display screen for advertising is an LED masterpiece. It contributes to many aspects of advertising that you will find relevant and useful. In fact, it is a better option for today's fierce market competition compared to the traditional form of advertising. Here are some of the clear edge of LED advertising display over other advertising tools.
Increased Visibility and Market Reach
The main goal of advertising is to reach out to the market and its prospective customers and translate this reach into profits. LED displays are often installed in areas where many people can see them. Considering they look bright and vibrant, they are also easy to spot and can easily attract people's attention.
Cost-effective Advertising Solutions
The LED advertising display screen may not be the most affordable marketing and promotion tool but it's definitely one of the most cost-effective solutions you can invest in. These screens have low operating costs, considering the low energy consumption that they require for power. And yes, this is despite the high brightness levels of the screens.
These LED digital advertising displays are also structured to be durable. This means that they can operate for a long time and require low maintenance too so you won't have to worry about the fees that come with them.
Versatility in Forms and Content
LED displays are highly compatible with all kinds of content, from simple texts to HD images and videos. With the LED screen's advanced technology, it can easily accommodate different types and settings of content. They can also be set to play at designated times and days, depending on how you program the content into the screens.
LED advertising displays often feature dynamic and engaging content, which is significantly better than traditional advertising and promotional content. While static images can do their work, animations, fancy videos, and real-time can be the ones to put your company at the top. And all of these are possible through LED screens.
Easy and Seamless Operation
A digital display screen for advertising can easily be operated and does not require an expert just to use it. Running content on the LED display is simple. You just need to upload your content on the control system software. From then, you can program the content on the duration and time of the day it will be utilized.
These LED advertising displays are controlled and be changed remotely using a control system. This is where you can update your content and promotions.
Environmentally-Friendly Advertising Approach
An LED digital advertising display is designed to be environmentally friendly in its operation. LED screens require less power consumption to operate compared to traditional advertising tools like neon signs and billboards. Besides saving money from electricity costs, you also get to contribute a little to the preservation of the environment. If you're the type of person who aims to reduce your carbon footprint, this is a good product to consider.
Versatile Applications
The LED commercial advertising display screens can easily be used for a variety of applications, including product introduction, brand exhibits, and public info. Besides basic promotions, you can also use these screens for everyday operations.
LED Advertising Display Applications
LED advertising display screens are excellently versatile in their usage. There are different ways you can apply these displays, depending on your needs. Some of the public and private venues you can install them are the following:
Commercial buildings
Malls and shopping centers
Hotels and restaurants
Theaters and cinemas
Schools
Sports stadiums
Event venues
Exploring Types of LED Advertising Display Screens
LED advertising displays are guaranteed to be eye-catching and get people's attention in no time. It's the reason why many corporations are choosing LED screens for their marketing and promotion schemes. If you are doing the same thing, there are several types of LED screens you can consider for advertising. Some of the most popular ones are the following:
Outdoor LED Screen
An outdoor advertising LED display screen is an LED screen that's structured to operate brightly and vibrantly even when exposed to direct sunlight. These displays may come in a variety of shapes and sizes but are more often seen as massive screens that can easily capture the attention of a huge crowd. They are popular for live events and real-time ads and feeds.
Outdoor LED advertising displays are now becoming a trend because many corporations are getting their hands on this investment. Besides their brightness, they are also notable for their high visibility, durability against weather elements, and anti-ultraviolet ray characteristics. These are installed in one of the following:
Outside malls
Side structure of buildings
Atop their own poles
On a massive billboard
Indoor LED Display
An LED display screen for advertising indoors is most often more vibrant despite having lower brightness levels compared to its outdoor counterpart. Often installed inside commercial buildings and establishments, they target people who visit the venues.
Flexible LED Display
A flexible LED advertising display is regarded as an LED screen that can be customized in whatever form and shape you want it to take. From simple curves to domes and spirals, you have the freedom to structure the screen however you want it to look.
These flexible LED displays most commonly have a pixel pitch of 1.2 mm to 4 mm, depending on the resolution and size of the display. They need to have meticulous details in order to maximize the screens indoors.
Transparent LED Display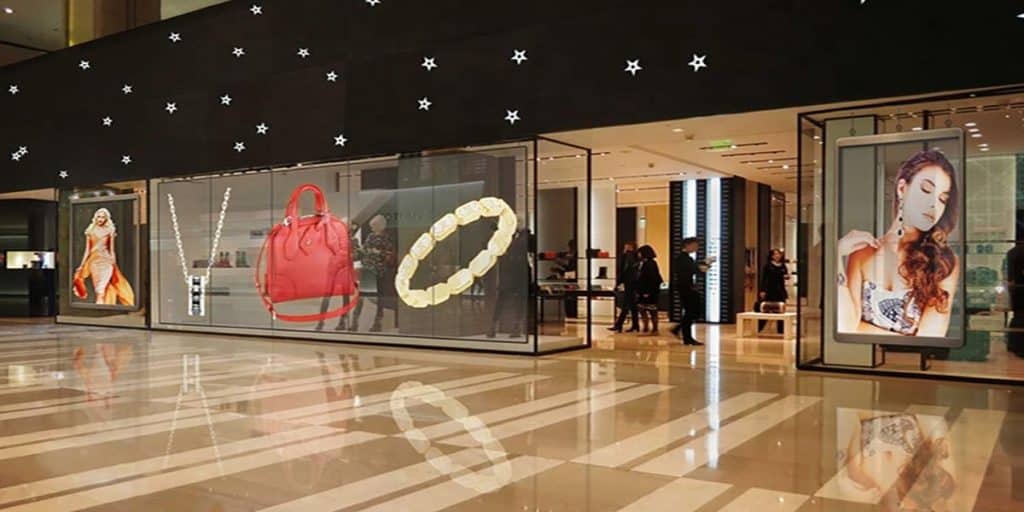 A transparent digital display screen for advertising is often described as an elegant and classy piece. They can be found both indoors and outdoors. The most evident characteristic of this display is its high transparency. This transparency can differ from one LED screen to the other.
3D LED Display
A 3D LED digital advertising display may be one of the most expensive of its kind but it's also the display that generates the most and the faster ROIs. These displays are so immersive and engaging that viewers are left speechless and with no choice but to stare at them.
This is the LED screen that can be at the top of a fierce market competition. Of course, this also means higher prices and expenses to spend just to get it.
Mobile LED Display
A mobile LED commercial advertising display screen is one of the most innovative LED screens used today. Designed to move from one place to another, these LED screens are often stuck on the side of buses or atop taxis. This is how the screens can move around and increase market reach.
Mobile LED displays are structured to be durable and waterproof. They have high resistance to weather elements, whether it is a drizzle or storm.
Poster LED Display
The poster LED advertising display screen is a bit similar to mobile displays in a way that they move from one place to another. They are also easy to assemble and disassemble but they are not a standalone device. These scenes need a poster or a mount so that they will stand and be installed in a specific location.
Should You Invest in an LED Advertising Display?
Purchasing an LED advertising display screen means investing in it. These displays don't come with cheap price tags and must be considered repeatedly before taking the cash out of your money. As an investment, it is necessary to take into account the benefits you will gain from the expensive purchase. Here are some of the clear benefits that the advertising display can provide:
More and faster ROIs (return on investment) – While LED displays may be an expensive investment, they can also provide a fast return on your expenses when used right. Since they catch more attention compared to other advertising mediums, you can expect to gain more customers and transactions from them.
Wider market reach – Whatever type of LED advertising display you choose, they are guaranteed to extend your market reach. The key is to choose the right location for the displays – which must be a place with high foot traffic.
Elevated and positive market branding – LED screens are considered at the top of the advertising tools pyramid. If you choose to show your company and the products you offer using a catchy and interesting ad on an LED display, it will definitely boost your reputation and the popularity of the products you offer.
In investment, ROI is the most important factor you need to take into account. If your ROI is slow and not enough to break even your costs, it means you made a wrong decision on it. This is something you won't experience with LED screens. Just make sure you choose a high-quality, functional, and operational LED display you can exploit.
Conclusion
An LED advertising display screen is a powerful tool for marketing and promotions. Companies can take advantage of this tool to introduce their brands or promote new products they have in store. The key is to choose the ideal type of LED screens to carry your branding and portfolio. A defective LED display will be a liability rather than an asset so make sure you choose well.
Advertising can positively or negatively impact your company and it's necessary to consider the content you want to show your target market. Once it's shown on an LED screen, it will be too late to reverse the effects, especially with the wide market reach these displays often have. Design advertising content fitting for your company and its relationship to its customers.
Getting an LED digital advertising display is an investment for the company. Make it a point to follow through and assess its performance, especially ROIs.