LED displays have become the epitome of stylish and high-quality marketing and advertising. Its market price has increased, and an LED display cabinet used for this device has become a valuable accessory. In fact, according to a Spherical Insights study, the global market size for outdoor LED display alone is bound to grow from 2022's 7.58 billion dollars to 29.87 billion dollars after a decade, in 2032.
LED displays have been a massive hit all over the world, conquering each industry in the market today. And there is no stopping this popular trend, especially with the increasing market values. When investing in this industry, one of the things you need to learn is that an LED screen cabinet plays an important role in this device. Each aspect that can improve or hinder the performance of your LED display needs your attention. And with LED display cabinets, there are several factors you can consider before making any purchase.
What Is an LED Display Cabinet
An LED display cabinet is an accessory that's used to install LED modules. Also called LED display frames, these units are designed to be modular and built for the LED display to be installed. This element of an LED display can influence the screen's installation and maintenance.
There are two major functions that an LED screen cabinet plays. First, it functions as a fixed component for the LED display. It holds all the other elements of the display, from the internal module to the cables. Secondly, it serves as a vital protective element for the LED display. It protects all the electronic elements inside the LED display from possible damage brought by external factors.
Besides sizes, LED display cabinets vary in terms of materials, shapes, uses, and designs. All these factors will heavily rely on the type of LED display you choose to use. For an LED screen installed outside, you will need an outdoor LED display cabinet. And if you have a P10 LED screen, you will need a p10 LED display cabinet to support it.
If you're up to choosing the perfect LED display cabinet for your investment, learning all of the classifications of the accessory is the best starting place. Skimming through the different types one by one is the ideal step to take.
LED Display Cabinet Types According to Material
There are different classifications that an LED display cabinet can be considered. One of which is based on the material they are constructed and created with. Here are some of the materials these cabinets can be manufactured in.
Sheet Metal Aluminum
Aluminum is a popular material for LED cabinets. They are famously used for mobile applications considering their lightweight characteristics. Compared to other LED display cabinets though, these ones are more expensive but they are popular for events because of their convenience.
Sheet Metal Iron
Iron is another material popularly used to manufacture an LED display cabinet. The material is affordable and common in the market but it's also heavy so can be disadvantageous. It is often used for large-sized LED displays outdoors like digital advertising billboards.
Sheet Metal Steel
Some prefer sheet metal steel for their LED screen cabinets. The material is famous because it's highly customizable it can serve as frames both for indoor and outdoor applications. It is the ideal material for personalized LED display cabinets and can be structured based on your requirements. The downside though is that it's vulnerable to rust and deformation so it would require some treatment for protection.
Die-Cast Aluminum
An LED display cabinet die cast that's aluminum-made, this LED screen frame is the result of continuous research and development. It is built using one mold at a time guarantees a flat surface in the structure. This also takes out the issue of the seams of the LED displays. Here are some of the benefits when using this LED display cabinet:
Lightweight
High precision
Excellent tensile resistance
Good strength with a stable structure
Convenient installation and maintenance
More reliable and safer cables and connections conceal
Adopts a modular design
Plastic or Resin Composite
Popular for mobile LED applications, plastic or resin composite can also be used for LED display cabinets. This material is preferred by some manufacturers due to its lightweight composition. Several disadvantages of this material include high cost and less known effects of weathering elements and rust on the material.
Magnesium Alloy
A magnesium alloy LED display cabinet is also becoming popular in the market because of its excellent performance. The accessory is manufactured using magnesium and other elements in the mix. It has become a preferred LED screen frame due to the following benefits:
High strength
Cost-efficient
Excellent shock absorption
Low heat and density
Good organic resistance
Excellent impact load capacity
Easy installation and maintenance
Longer lifespan and smooth operation
Nano-Polymer
Known for their fall and shock resistance, nano-polymer LED screen cabinets are also becoming a trend in the market. This innovative frame delivers the following benefits you can exploit.
Lighter compared to other materials
Easy delivery and installation
Thin structure
Relatively cheaper cost
Short production cycle – widely available
Carbon Fiber
A carbon fiber LED display cabinet is another product of incredible research and development efforts in the manufacture of these frames. These are the top advantages to benefit from this screen frame:
Thin and lightweight design
High tensile strength
Modular design
Convenient maintenance
LED Display Cabinet Types According to Shape
Besides their materials, LED display cabinets can also differ in shape. You can get a white LED display cabinet in a variety of forms, as long as it meets the requirements of your screens. They can also be small or massive, depending on what you prefer. If you're in the process of considering what shape to get for your LED display cabinet, here are some of the common options.
Straight
Straight LED display cabinets refer to the basic ones you will find in the market. They can be in a square or rectangular form with straight lines and frames.
Curved
Curved LED screen cabinets have curves in their frames, and you can find them internally or externally depending on how they are designed. These cabinets are compatible with curved LED screens.
Circular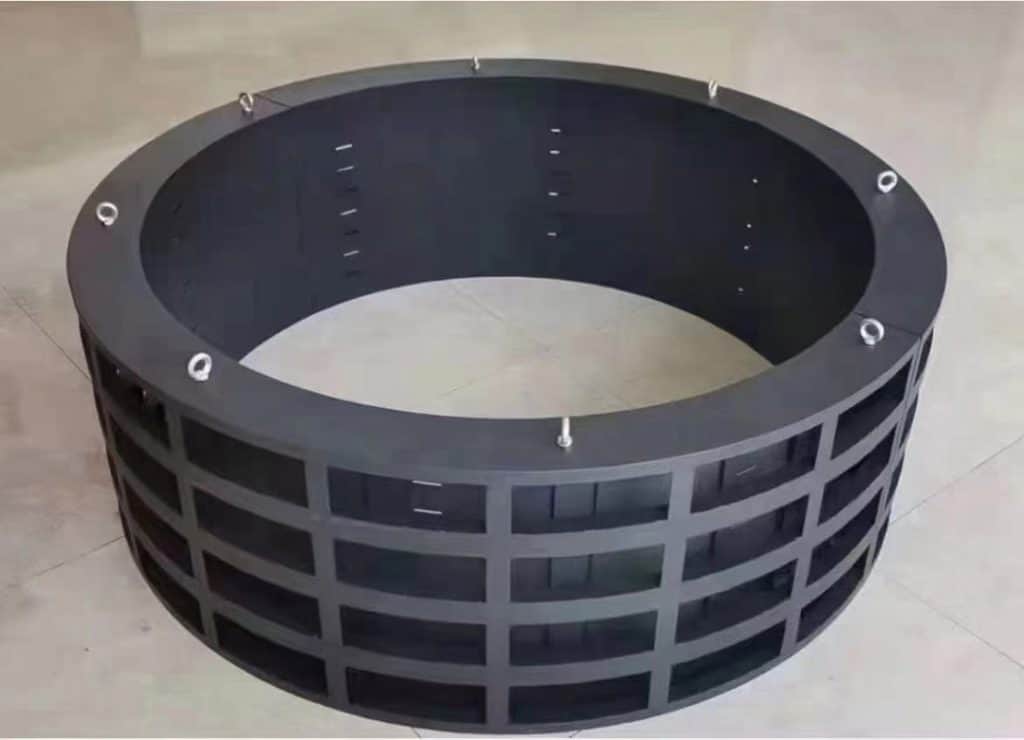 A circular LED display cabinet is a stylish and trendy frame where the screens are installed on the outer part of the circle looking outwards. This will be perfect for large-scale display setups and campaigns.
Spherical
A spherical LED screen cabinet looks close to a ball with many screens littered all over the surface of that ball. With this shape, you will need to use a flexible LED display in order to conform with the shape of the LED display cabinet.
Wavy
Compared to curved LED screen cabinets, the wavy ones don't just stop with a curve. The design looks like the unending curves of the sea. They will be difficult to miss but you also need to make sure that you look for compatible displays to install in them.
LED Display Cabinet Classifications Based on Application
The different functions and uses of LED screen cabinets set them apart from each other. An LED display cabinet screen may be considered into one of these types:
Indoor
Indoor LED display cabinets are structured for installation inside a building or any venue. These frames have a more straightforward construction where the materials used are not that meticulous. These display cabinets are often thinner, lighter, and more affordable.
Outdoor
An outdoor LED display cabinet has a more durable and stronger design. This classification often takes into account the condition of the environment in which the cabinet will be installed, especially since it's outdoors. Weathering elements need to be considered, including moisture, wind, rust, and dust.
Outdoor LED screen frames are often waterproof or at least have excellent water resistance. These cabinets need to be strong enough to perform well even when exposed to horrible outdoor conditions. They are often stronger and more durable but also more expensive and a bit heavier than their indoor counterparts.
Modular/Mobile
Modular or mobile LED display cabinets focus on convenience. They have a structure that's easy and fast to assemble and disassemble. They are perfect for itinerant use, especially in festivals and exhibits. This type of LED display cabinet is usually lightweight and made from aluminum.
LED Display Cabinet Types According to Side Design
There are two types of LED display cabinets based on the design of their sides. Each with its advantages and disadvantages, the single and double-sided LED display cabinets can be the perfect fit for you.
One-sided LED Screen Cabinet
A single-sided LED display cabinet is the most common type of frame you can check out. It simply refers to the frame where there's a clear front that the screen must be installed in.
Double-sided LED Screen Cabinet
A double-sided LED display cabinet has a thicker frame. Both the front and rear sides of the frame can be used to carry the LED displays. You may think of it as two single-sided LED display cabinets glued together from the back.
These LED dual-service cabinets offer more flexibility and viewer reach. They have a fixed middle structure for stronger support and two flexible sides for the screens.
LED Display Cabinet Classifications According to Maintenance Accessibility
Finally, the last classification of LED display cabinets is based on maintenance accessibility. For LED screens, programming, troubleshooting, and maintenance are relevant factors that affect their performances. There are two types of LED screen cabinets to aid with these factors.
Frontal Maintenance
A frontal maintenance LED display cabinet is designed in a way where the LED modules can be removed from the display's front side. This design is helpful, especially when there's no space at the back for you to crawl or slide into just to complete your task.
Rear Maintenance
Rear maintenance LED screen cabinets are the exact opposite. Troubleshooting and maintenance of the displays are conducted on the back of the screen. This design is more discreet but the back part of the LED displays needs to have enough space to be easily accessed by the operator.
How to Choose the Right LED Display Cabinet
When choosing your ideal LED display cabinet, there are two major factors you need to focus on. These are the function and the type of LED screen cabinet. You will have to settle on these two elements first before you can make an informed decision. After you choose what function of the LED display cabinet to focus on and the type of LED display cabinet perfect for your needs, here are other aspects you will have to follow.
Make sure that your budget first is the cabinet you chose – LED display cabinets with more complex manufacturing processes often cost more so you may want to stick with the basics like the straight and aluminum ones.
Consider the venue and environment where the display will be installed – There are LED screen cabinets designed for outdoor installation while there are those that are limited to indoor installation so take note of these factors.
Explore personalized LED display cabinets – The great thing about having more budget is that you are free to customize your LED display cabinet however way you want it to be. If you have enough in your wallet, choose to personalize to make sure that what you're getting is perfect for your screen.
Conclusion
An LED display cabinet is a major requirement when using an LED screen, whether you plan to use it for personal reasons or for profit. There are many classifications of an LED display cabinet screen you can consider and there's no shortcut to it but going through them one by one. Take the time to look at all your options and check out the ones that you think are perfect for your screen and display needs. Don't forget to consider your budget and the installation location just to be sure. Don't get overwhelmed and digest all the information slowly but surely.