LED screen displays that dominate the urban skylines come in a variety of sizes. From the massive and eye-catching 3D LED display to a rectangular LED screen installed atop a taxi, there are many LED screen sizes to choose from. With many options to go through, being meticulous is the key and yes, you might even use an LED screen size calculator for it.
With the advancement of technology, LED screens have expanded from the integration of new technologies to the introduction of limitless features. WithED screens, their shapes and sizes are limitless. This means you can go as massive as you want your LED wall screen size to be or as unique as their shapes are. So when it comes to LED display screen sizes, the limit is your imagination and budget.
How Important Are LED Screen Sizes?
Choosing the right size of LED display to use is important for the device to be effective in whatever function you're using it for. Depending on the event, industry, and function of the LED screen you want to exploit, the LED screen sizes should also be chosen accordingly.
For instance, events that require or expect massive crowds of audiences will need a massive LED screen to accommodate them. Some examples of these events are concerts, sports events, and theaters.
Besides that, there are also cases where you will need the flexibility of the LED displays rather than sticking with strict LED screen sizes in inches. These are the LED displays used in museums, trade shows, and tricky stage performances with complex visual effects. LED wall installations are recommended for these cases. Imagine having the ability to transform any space into whatever visual you want it to have.
Standard LED Screen Sizes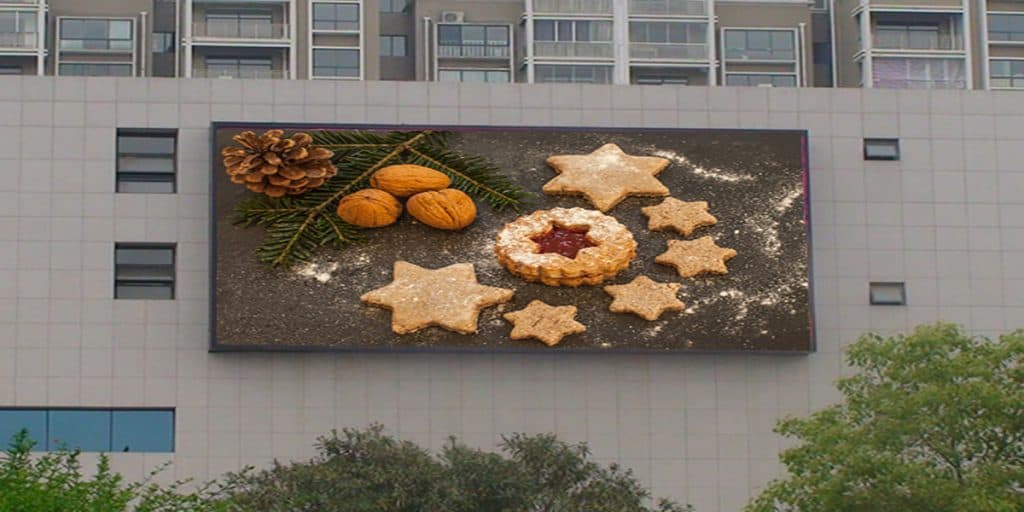 There are standard LED screen sizes you can choose from, especially if you don't want to customize your LED displays. The first thing you need to do is to ask your provider for the LED screen sizes available currently in their stores. Some of the sizes are offered in length measurements while some are arranged in pixel pitches.
There are different combinations that can be put together for an LED display in terms of three factors that include pixel pitch, LED module size, and cabinet size. The most common measurements for LED display screen sizes of the modules are the following:
Here are some of the most common LED screen sizes you can consider for fixed outdoor LED displays:
| | | |
| --- | --- | --- |
| Pixel Pitch | LED Module Size | LED Cabinet Size |
| P4, P5, P8, & P10 | 320 x 160/160 x 160 mm | 960 x 960 mm |
| P6 | 192 x 192 mm | 960 x 960 mm |
| P4 & P8 | 320 x 160/256 x 128 mm | 960 x 960/1024 x 1024 mm |
| P2.6, P2.9, P3.91, & P4.81 | 250 x 250 mm | 500 x 500/500 x 1000 mm |
These combinations are some of the most common and popular options you can choose. You can always have the provider customize these specifications for you based on your requirements. If you don't have the time and budget for that then just check out the LED screen sizes available right then and there.
Factors that Can Affect Your LED Screen Size Choice
When choosing the ideal LED screen size, it is important to consider the factors that will affect its screen quality and your visual experience. To create the visual image you want, the appropriate LED screen sizes need to be considered. And here are the components that can influence the performance of the display based on the size.
Resolution
The resolution of an LED display dictates how clear and vibrant the images shown on the screens are. It indicates the fineness of the details of the images or videos displayed on the screen. When it comes to the relationship of resolution to LED screen sizes, the bigger the LED display, the higher the resolution is necessary for the image and video quality to be clear, detailed, and vibrant. The high resolutions and many good quality LED displays offer are 720p, 1080p, 2K, and 4K resolution. And here are their corresponding pixels
| | |
| --- | --- |
| LED Screen Resolution | Pixels (H x L) |
| 4K Resolution | 4096 x 2160 pixels |
| 2K Resolution | 2560 x 1440 pixels |
| 1080P Resolution | 1920 x 1080 pixels |
| 720P Resolution | 1280 x 720 pixels |
Pixel Pitch
The pixel pitch refers to the distance between LEDs, which influences the viewing distance of the LED screen. A pixel pitch that's low indicates that the LEDs are arranged closely together, which means that the audience should be nearer the screen to appreciate the visuals of the LED screen.
Outdoor LED screens usually have higher pixel pitch compared to indoor LED screens. They also often come in bigger LED screen sizes. Here are the pixel pitches for indoor and outdoor LED displays:
| | |
| --- | --- |
| Indoor Pixel Pitch | Outdoor Pixel Pitch |
| P1.25, P1.538, & P1.86 | P2.5 |
| P2 & P2.5 | P3, P3.076, P3.3, & P3.91 |
| P3 & P3.91 | P4 & P4.81 |
| P4 & P4.81 | P5, P6, & P6.67 |
| P5 | P8 & P10 |
For indoor LED displays, P2.5 is the most popular pixel pitch used. For outdoor LED screens, P5, P6, P8, P10, P12, and P16 are the top choices for many, for the stage rental is P3.91 and P4.81. 
Viewing Distance
The viewing distance refers to the ideal distance where you will see clear and vibrant images on the LED display. It is also influenced by the pixel pitch and the LED screen sizes. To make it easier to understand, the number of the pixel pitch is relative to the minimum viewing distance in meters. And since the pixel pitch is affected by the screen's size, the viewing distance will also do the same. To serve as a guide, here is a list of several pixel pitches and their ideal viewing distances.
| | |
| --- | --- |
| Pixel Pitch of LED Displays | Optimal Viewing Distance (Minimum Viewing Distance) |
| P1.25 LED Screen | 2 to 3 m/6.59 to 9.85 ft (at least 1.2 m/3.94 ft) |
| P1.87 LED Screen | 3 to 5 m/9.84 to 16.40 ft (at least 1.87 m/6.14 ft) |
| P2.5 LED Screen | 5 to 8 m/16.40 to 26.25 ft (at least 2.5m/8.20 ft) |
| P5 LED Screen | 10 to 15 m/32.8 to 49.21 ft (at least 5 m/16.4 ft) |
| P10 LED Screen | 20 to 30 m/65.62 to 98.43 ft (at least 10 m/32.8 ft) |
| P40 LED Screen | 80 to 100 m/262.47 to 328.1 ft (at least 40 m/131.23 ft) |
Project Budget
Another factor you will have to consider when deciding which LED screen sizes to choose is your project budget. The bigger the screen is, whether it's a large integrated LED screen or it's comprised of several LED modules assembled in a cabinet, the more expensive it is.
If you're planning for a grand event, you need to prepare a hefty budget for it. But if you have a limited budget, make sure to look into ways you can save money even when purchasing an LED display. Downgrading to a smaller LED screen may be considered.
Location of Installation (Outdoor vs. Indoor)
The location of the installation is a fair consideration in this case, especially since the outdoor LED screen sizes are usually bigger than their indoor versions. This means that they have bigger pixel pitch and wider and farther viewing distances.
If you're hosting an outdoor event and you're planning to use an LED screen, take into account how big the venue is and how large the crowd you expect. You might need a bigger LED display to accommodate everyone.
How to Choose the Right Size for Your LED Screen
Choosing the right size of LED wall screen size is important in making sure that you maximize all your resources and you're not wasting money on a bad investment. Here are the simple steps to follow when choosing among the available LED screen sizes.
Look at your budget and make sure to go back every now and then before the purchase.
Skim through the LED screen sizes available from your supplier
Take into account all the factors before choosing the size, including the specifications, the venue of installation, and the size of the crowd expected.
You can decide on your own what the ideal LED screen size is or you can ask your provider what they think. If you're still in doubt about the best size of the LED screen to fit your needs, you can use an LED screen size calculator to help you along the way.
Make an order and discuss with your provider all the components you need to be customized.
It's fairly easy to pinpoint a specific LED display and just say that it's the perfect option for you without considering all the other factors. The catch though is that you might come to regret it after some time.
With many LED screen sizes to choose from, it can be exhausting. But make sure to make time and be patient in skimming and understanding the market. The key is to be meticulous with your purchase and avoid being an impulsive buyer.
Conclusion
The development of LED displays has paved the way for unlimited LED screen sizes you can choose from. It Is highly necessary to get the one that will serve its purpose well and provide more functions and uses for you.
In choosing the LED screen with the ideal size, take into account specifications that might influence the quality of your visual display and are also affected by the LED display screen sizes. Look at the resolution, pixel pitch, and viewing distance of the displays. And don't forget to take into account the venue and the size of your expected audience.