LRI2.6 indoor rental led display
P2.6 Indoor Rental LED Display
P2.6 indoor rental led display is a led display used for indoor rental that LED modules with magnets for quick installation, both for front and rear maintenance. The power supply and receiving card are integrated into the control box, and the power supply and receiving card can be quickly replaced. Quick-lock assembly and disassembly, with power and network cable connectors.
It is mainly used for performances, meetings, exhibitions, weddings, foundations, started opening, promotion, and other activities, and special effects equipment rental places.
SZLEDWORLD is a china professional p2.6 indoor rental led display manufacturer, We have more than 13 years of experience in the LED display industry, and our products have CE, RoHS, UL, and other certifications. Our raw materials are all selected with high quality, and the product display refreshes above 3840 Hz.
Great Performance
70 Billion colors
Vivid Picture
1000~5000nits
High brightness
100,000 Hours
Long service time
Quick replacement of components
The design of the cabinet is perfectly in line with the concept of quick installation and maintenance. The magnetic installation of the led module, the quick removal and installation of the power supply and the receiving card, the use of connectors for cables and network cables to achieve quick wiring, and the quick locking of the cabinet and other structures.
Strong structure
P2.6 indoor rental led display, the cabinet structure is sturdy, the handle is thick and reliable, the power supply and receiving card are integrated into the control box, which can be quickly replaced, the LED modules can use magnets for quick installation, and the arc lock is optional and can be assembled with the 500x1000mm cabinets, the indication on the cabinet Lights facilitate quick identification of problems, etc.
Compatible stitching
The 500x500mm cabinet and the 500x1000mm cabinet can be spliced together, and there are more size choices in the height direction of the LED display. At the same time, they can also be misplaced and spliced to create various shapes and attract the attention of the audience.
Curved lock
The cabinet supports left and right arc lock connections, and 500x500mm cabinets can be spliced and disassembled with 500mmx1000mm cabinets, making it easy to create custom designs for any layout.
Structural strength, thin and lightweight
Reinforcing ribs are designed around the cabinet body, the structure is firm and strong, and the weight of the cabinet is very light (6.5kg/pcs), and it is thin, with a thickness of 71.5mm, so it is very convenient to install, disassemble, and transport, which can save costs.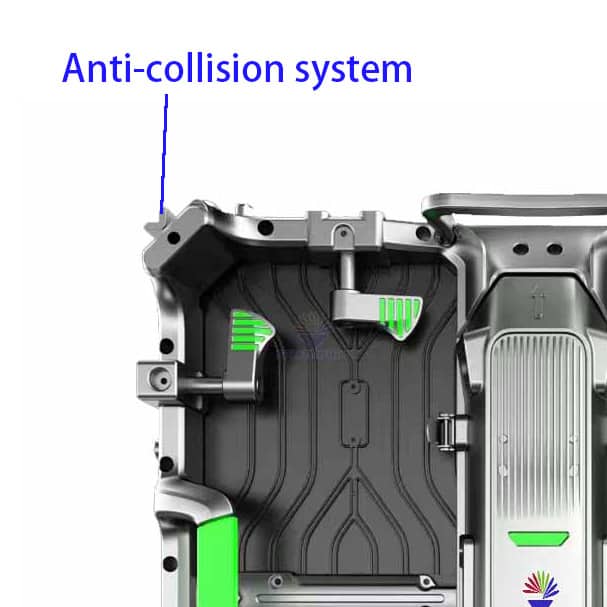 Anti-collision system
P2.6 indoor rental LED display cabinet as it often needs to be assembled, disassembled, and transported. During this process, the lamp beads in the cabinet are easily damaged by knocking, especially the lamp beads in the four corners of the cabinet. The four corners of the cabinet are designed with anti-collision blocks for you to choose to effectively protect the lamps of the four corners of the cabinet.
Right angle cabinet
The two sides of the cabinets can be processed into a 45-degree bevel structure. When the two cabinets are assembled, the cabinets can be perfectly assembled to form a right-angle shape of the LED screen.
P2.6 indoor rental LED display Specifications
| Pixel Pitch | P2.6 |
| --- | --- |
| Model | LRI 2.6 |
| LED type | SMD2121 |
| Pixel configuration | 3 in 1 SMD |
| Pixel density | 147,456 pixels/m2 |
| Module dimension(W*H) | 250*250mm |
| Module resolution | 96*96dots |
| Drive Method | 1/32 scan |
| Maintenance | back |
| Cabinet size (W*H) | 500*500mm / 500*1000mm |
| Cabinet resolution | 192*192 dots / 192*384 dots |
| Cabinet depth | 71.5mm |
| Cabinet material | Aluminum |
| Cabinet weight | 6.5 kg/pcs / 11.5 kg/pcs |
| SQM / cabinet | 0.25 sqm / 0.5 sqm |
| Brightness | 800 cd/m2 |
| Color temperature | 6500deg. K |
| Best Viewing Distance | 2.5m to 25m |
| Viewing Angle | 140 * 140 |
| Grey Level | 14 Bit |
| Refresh Rate | ≥3840Hz |
| Video frame rate | 60Hz |
| Power consumption(Avg.) | 65w/cabinet / 130w/cabinet |
| Power consumption(Max.) | 200w/cabinet / 400w/cabinet |
| Input voltage (nominal) | 110 or 220VAC |
| Humidity-operating | 10% ~ 95% |
| Operating Temperature | -20° – 50° C |
| Screen life | ≥100000 hours |
| Input interface | DVI, VGA, HDMI, DP, SDI, etc. |
| Control system | Novastar, colorlight, linsn, HD, etc. |
| Certificates | CE,RoHS,FCC,UL |
| Ingress Protection (IP) | Front IP65 |
| Warranty | 2 Years |
Notes: Specifications are for reference only. Please contact our salesperson for details. All rights are reserved to SZLEDWORLD.
Brochures for P2.6 indoor rental led display
Production Process
Raw materials such as lamps, ICs, PCBs, and other electronic components are processed into LED modules by high-precision SMT equipment. After QC confirms that the inspection is OK, the LED modules are assembled into a cabinet, and finally, the finished cabinet is assembled into a whole screen for the aging test
Installation
The installation methods of P2.6 indoor rental LED display screens usually include hanging and ground stacking. This installation and disassembly method is simple, fast, and very flexible, which is very suitable for stage rental performances.
Why choose us as your supplier
Rental LED display accessories
We will arrange spare parts for the main components outside the normal LED display screen, so as to ensure that the product is damaged and replaced quickly during the stage rental process, prolonging the use of the product's lifespan.
Control system diagram
P2.6 indoor rental led screen is usually for stage rental use, so the control system is synchronous with the video processor for different video source input.
Project case
LRI2.6 Indoor Rental LED Display
P2.6 indoor rental led display is used for rental performances of stage concerts. The cabinet size was a mix of 500mmx1000mm and 500mmx500mm. It has a high refresh resolution of 4800 HZ.
Related product
Got any Questions?
Connect With SZLEDWORLD
SZLEDWORLD is the only company, that can provide LED displays in all forms and custom fabrication services in China. Partnering with SZLEDWORLD provides excellent opportunities to grow your customer base and enhance your revenue by offering INTEGRATED solutions in the LED Wall Display.