P8 Perimeter LED Display
The P8 perimeter led display is a P8 LED display installed around the stadium by splicing the left and right sides of the 960x960mm cabinet. It can be used not only indoors but also outdoors. It can be used not only for fixed installation in stadiums but also for rental applications.
Pixel pitch: 8mm;
LED module size: 320x160mm;
Resolution: 15,625 dots/sqm;
Cabinet: Aluminium die-casting 960x960mm or iron customized cabinet;
MOQ: 1 sqm;
CE, RoHS, LVD, FCC, ISO9001-2016, ISO27001, ISO14001 approved;
P8 Perimeter LED Display Features
The cabinet is not only suitable for P8, but also suitable for P5, P6.67, and P10 pixel pitches;
Easy-to-operate installation structure and protective structure suitable for sports stadiums;
Multi-purpose, remove the top cover, and retract the supporting legs, it can be turned into a rental LED display;
Soft top hats and soft masks to protect lamps and athletes;
The installation angle between the LED display and the ground can be adjusted to meet different viewing angles;
IP65 waterproof level can be applied to the fixed installation of the outdoor stadium perimeter.
Perfect structural design
Multifunctional application
Using support legs + soft top cover, it can be fixed and installed around the court for perimeter LED display;
After removing the top cover and folding support legs, it can be used as a regular fixed installation large LED screen or can be used for stage rental purposes
Adjustable viewing angle
The supporting legs behind the cabinet can adjust the angle between the cabinet and the ground, and choose the most suitable tilt angle according to different courts and viewing positions. Improve the audience's viewing experience, and increase the display effect of advertisements.
Soft Anti-collision Foam and soft masks
The 3-layer soft mask can not only prevent the ball or players from hitting the lamp beads, but also prevent players from being injured;
Soft Anti-collision Foam is installed on the top of the box to protect the top light beads and protect the players from injury.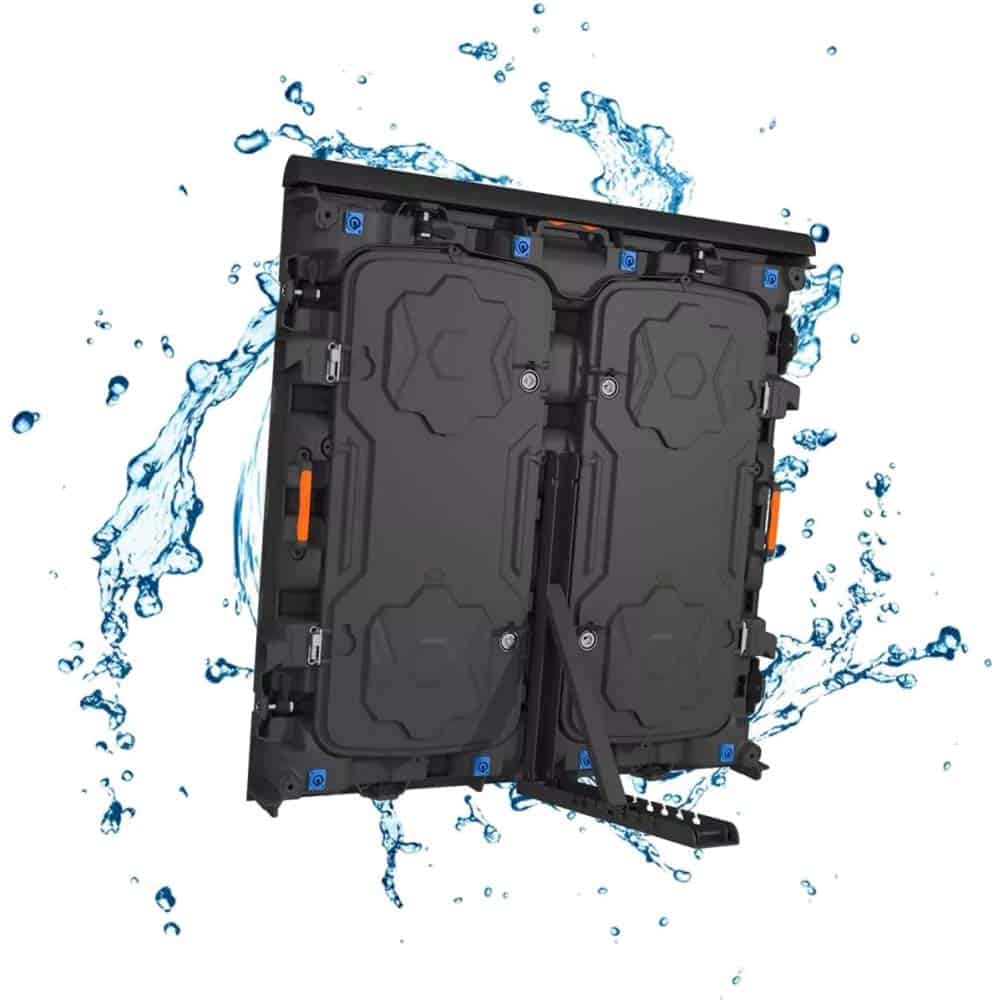 IP65 waterproof
High-quality waterproof structure design, IP65 protection level, can effectively prevent water and dust from invading. Even if the LED screen is installed in a harsh outdoor environment, it can ensure high quality and stable picture quality output.
P8 Perimeter LED screen Specifications
| | |
| --- | --- |
| Pixel Pitch | P8 |
| LED type | SMD 3535 |
| Pixel configuration | 3-in-1 SMD |
| Pixel density | 15,625 pixels/m2 |
| Module dimension(W*H) | 320*160mm |
| Module resolution | 40*20dots |
| Mask | soft |
| Drive Method | 1/5 scan |
| Cabinet size (W*H) | 960/1280*960mm |
| Cabinet depth | 102mm |
| Cabinet material | magnesium or aluminum alloy |
| Cabinet weight | 25kg/pcs |
| Mounting legs | Middle leg |
| Protective cover | Soft tophat |
| Brightness | 5800 cd/m2 |
| Best Viewing Distance | 8m to 80m |
| Viewing Angle | 140 * 140 |
| Grey Level | 14 Bit |
| Refresh Rate | ≥1920HZ |
| Power consumption(Avg.) | 300w/cabinet |
| Power consumption(Max.) | 900w/cabinet |
| Humidity-operating | 10% ~ 95% |
| Operating Temperature | -20° – 50° C |
| Screen life | ≥100000 hours |
| Controlling System | Sync or Async |
| Certificates | CE, RoHS, FCC, UL |
| Ingress Protection (IP) | IP65 |
| Warranty | 2 Years |
Notes: Specifications are for reference only. Please contact our salesperson for details. All rights are reserved to SZLEDWORLD.
Brochures for P8 perimeter led display
Perimeter LED display
The most important application is to fix the peripheral LED display on the football, basketball, badminton, volleyball, rugby, ice hockey, etc. through its own support legs
Fixed installation LED display
When the supporting legs at the back of the cabinet are folded and the top cover is removed, the cabinet can be installed outdoors like a conventional fixed-installed LED large screen and can be used in shopping malls, airports, highways, stadiums, etc.
Rental LED display
It can not only be used for outdoor fixed installation, but also can be used for stage rental, because the power cable and the DATA cable of the cabinet are equipped with connectors, and the cabinet has quick locks for installation on the top, bottom, left, and right, these are available for rental for quick installation and removal.
Your best P8 outdoor perimeter LED display manufacturer in China
SZLEDWORLD is the most professional P8 perimeter LED display manufacturer in China. We started producing stadium screens in 2009 and have 13 years of production experience. We can customize the installation structure, display effect, etc. according to customer needs. The P8 stadium screen we produce has the characteristics of impact resistance, high brightness, and easy installation.
Control system diagram
Synchronous and asynchronous control methods, HDMI for live broadcast, U disk, wifi, and 4G cloud to send control programs
Related product
Got any Questions?
Connect With SZLEDWORLD
SZLEDWORLD is the only company, that can provide LED displays in all forms and custom fabrication services in China. Partnering with SZLEDWORLD provides excellent opportunities to grow your customer base and enhance your revenue by offering INTEGRATED solutions in the LED Wall Display.