If you look around, wherever you are, there seem to be monitors and screens everywhere. It's because screens have become a necessity in today's modern lifestyle, whether it's residential, commercial, or industrial. This paved the way for the birth of many companies looking to contribute to this need and the top 5 LED screen manufacturers in world to dominate the industry.
The rise of LED screens has continued to be a powerful trend in the global market, reaching a value of $159.2 billion in the year 2022. It is expected to have a 3.9% CAGR growth by the year 2028, accumulating a total market value of $205 billion. Great things are to be expected from the industry of LED screens just based on these numbers.
Global manufacturers have continued to invest in LED technology research and development in order to create more efficient and eco-friendly products for the market. Investments have been focused on the manufacture of advanced display technologies and smart displays. And since manufacturing costs and installation of LED solutions have decreased because of the increase in market demand, companies have also upped their investments. Today, the activities of the top 5 LED screen manufacturers in world are concentrated in China, South Korea, and Japan, with the former taking up most of the production.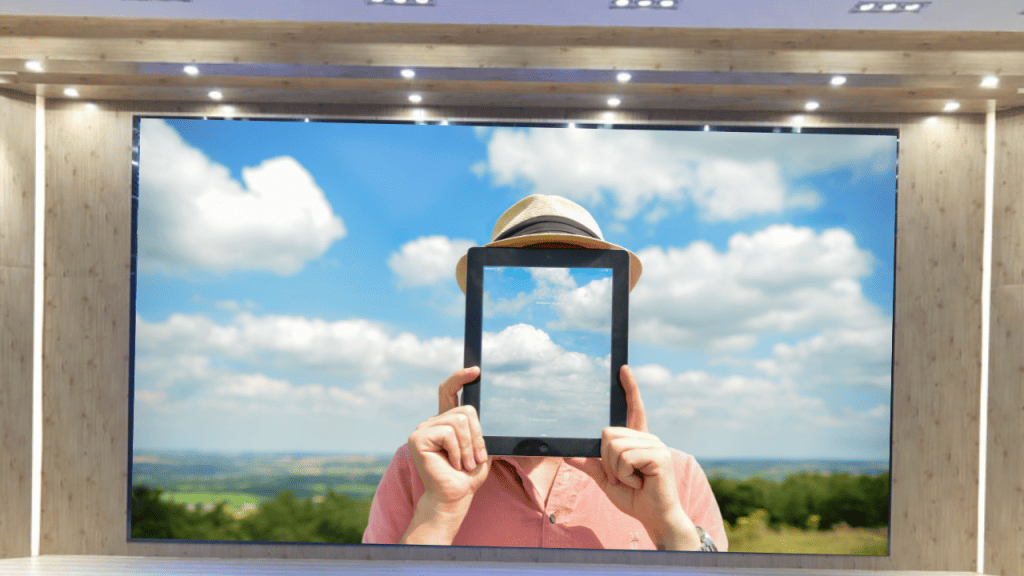 Top 5 LED Screen Manufacturers In World
With the rise of LED technology and the need for environmentally friendly solutions that produce fewer carbon footprints. This high demand led to many manufacturers shifting to producing LED products and solutions. This contributed to the continuous growth of the global market. And the top LED display manufacturers are only a fraction of the entities that bring the industry's foot forward. Here are the top 5 LED screen manufacturers in world you can continue to look forward to.
1. Samsung Electronics Co. Ltd.
| | |
| --- | --- |
| Headquarters | Suwon-Si, Geonggi-Do, South Korea |
| Founded | 1969 |
| Revenue | $245.7 billion (US Dollars) as of 2022 |
| Website | https://www.samsung.com |
| Key LED Screen Products | Samsung OLED displays, Samsung XPR08-B (P8), Samsung The Wall All-In-One |
Samsung Electronics is one of the top 5 LED screen manufacturers in world. It is considered Samsung's biggest faction. It is also the biggest industrial electronics company in South Korea, with 228 subsidiaries all over the world. This global tech frontrunner offers an extensive portfolio that includes a wide variety of appliances from display panels and televisions to washers and refrigerators.
This faction became independent in the platform to improve the company's R&D operations and innovate better products and technology. By using the most advanced technology that the company innovated, it can develop and produces new products to cater to the needs of the high-end market.
With this strategy, the company's goal is to create innovative electric solutions across different end-users for sustainability purposes. This principle is the reason why the company is well-known for its extensive research and development ventures and expenditure.
The OLED displays from Samsung are the leader in the industry, specifically in the global SME market. Samsung's OLED displays deliver a slim design, low energy consumption, and clear image.
2. LG Display Co. Ltd.
| | |
| --- | --- |
| Headquarters | Seoul, South Korea |
| Founded | 1987 |
| Revenue | $20.19 billion (US Dollars) as of 2022 |
| Website | https://www.lgdisplay.com |
| Key LED Screen Products | LG Indoor LED Signage, LG Ultra Slim Series, LG LSCA029 Versatile Series |
Another one of the top 5 LED screen manufacturers in world is the LG Display. Affiliated with the LG Group, it is a popular LCD panel manufacturer that takes pride in having a revenue of $20.19 billion US dollars in the 2022 fiscal year. The company is currently headquartered in Seoul, Korea with several subsidiaries all over China, Europe, South Korea, Japan, and the United States, where the company operates its research and development and production divisions.
This South Korean frontrunner has become a major manufacturer of a wide selection of consumer and commercial products and solutions, from appliances and service robots to monitors and automotive components.
As one of the top 5 LED screen manufacturers in world, the company also manufactures innovative displays and leads the industry when it comes to the development of display technologies. Some of which include TFT-LCD or thin-film transistor liquid crystal displays and OLED. Besides flexible displays, it also produces different sizes and specifications of display panels. The company's display panels are used by other popular companies, including Apple, Acer, Dell, Lenovo, and Philips.
3. Daktronics
| | |
| --- | --- |
| Headquarters | Brookings, South Dakota, United States |
| Founded | 1968 |
| Revenue | $610.53 million (US Dollars) as of 2018 |
| Website | https://www.daktronics.com |
| Key LED Screen Products | Outdoor LED displays (Text, Images, and Animations) and Digit and Price LED Signs |
Headquartered in South Dakota, Daktronics is part of the top 5 LED screen manufacturers in world. It is a multinational company with several subsidiaries located in Shanghai, Minnesota, and Belgium. Since it was established in 1968, the company has catered to sports displays and marketing and transportation applications. It manufactures high-quality digital billboards, scoreboards, dynamic message signs, and large-format LED video displays, along with control systems and audio systems It even offers the service of designing digital content, from motion graphics to 3D animation in HD video.
Daktronics was able to supply LED screens for the Olympic Games, including video displays and scoreboards. It was made possible when companies like IBM and Omega SA sponsored the event. It was also responsible for developing NBA's backboard light start to comply with the instant replay rulings for buzzer beaters in the year 2000. In 2004, it also innovated a shot clock that's see-through for better visibility.
Dakronics was able to improve as an industry and became one of the top 5 LED screen manufacturers in world with the help of its state-of-the-art product reliability lab that designs products and innovates them to withstand harsh weather conditions. The company's key products include Outdoor LED displays:
Text Only
Text, Images, and Animations
Digital Street Furniture
Custom Sizes and Shapes
It also offers Price and Digit LED Signs that include Petroleum Price Displays, Time and Temperature Displays, and Space Availability Displays.
4. Leyard Optoelectronic Co. Ltd.
| | |
| --- | --- |
| Headquarters | Beijing, China |
| Founded | 1995 |
| Revenue | $2.38 billion (US Dollars) as of 2022 |
| Website | https://en.leyard.com/ |
| Key LED Screen Products | Pine Pitch LED Display Series, Interactive Conference LED Display Series, MicroLED Series, Outdoor Fixed LED Display Series, and Front Acces LED Display Series |
Leyard Optoelectronic, headquartered in Beijing China, was established in the year 1995 and operates as a manufacturer of LED products, from lighting to displays. With around 5,000 employees able to operate worldwide with the help of 7 international marketing centers and 9 production bases all over the world, including Brazil, Canada, Europe, Japan, and the United States. In 2012, it went from being a private corporation to a public one when it was listed on the Shenzhen Stock Exchange. It also premiered on the ChiNext board.
The company became popular in the industry and can be considered one of the top 5 LED screen manufacturers in world because it offers gigantic screen displays. It offers an extensive portfolio that includes conventional LED, small-pitch LED, commercial and conference display products, and LED modular products.
One of the key moments for the company was when its display products were utilized in the opening ceremony of the 2008 Olympic Games, specifically the 1300 square meter display scroll. The company also provided visual effects for National Day (50th, 60th, and 70th) and other major national events.
Leyard is a global frontrunner in the field of audio-visual technology. It is known to be the first one to innovate the small-pitch LED display in the world. In 2019, it was named the leader in global LED display market share, small-pitch LED display market share, and indoor LED display market share.
5. Barco
| | |
| --- | --- |
| Headquarters | Kortrijk, Belgium |
| Founded | 1934 |
| Revenue | $1.6 billion (US Dollars) as of 2022 |
| Website | https://www.barco.com/en |
| Key LED Screen Products | Barco TruePix Series, Barco NT Series, and Barco XT Series |
Barco, established in the year 1934, is a known innovator and manufacturer of LED products and solutions. Early in its foundation though, it started as a company that deals with assembling radio parts after importing them from the United States. It was even known as the Belgium American Radio Corporation where it got its name in the first place.
Throughout the years, Barcocano has developed excellent and reliable LED walls and can now be named one of the top 5 LED screen manufacturers in the world. It features a portfolio of high-performing and high-quality LED walls for indoor applications like the ones installed in the boardroom or control room. Some of the most popular creations from the company are its TruePix series with smart engineering and top-notch LED technology, NT Series with Infinipix Gen2 processing power, and XT Series with picture-perfect video walls. 
Barco dedicates its operations to the development and improvement of LED technology. The company envisions completely seamless and uninterrupted video wall displays that can function effectively even under daylight brightness.
Conclusion
The LED display industry is expansive and with the current upward trajectory in the market, more is expected from it. Many manufacturers have introduced new LED products and solutions to the market. With these top 5 LED screen manufacturers in world having an early start, it's not surprising that customers have become loyal and trusting of their offers. All of these manufacturers have dedicated an ample amount of their time and expenses to research and development, which is how they became the leaders in the industry.