LED screens are popular and widely used for marketing and information dissemination. Going beyond that, they have also dominated different sectors of society, from education to hospice and healthcare industries. Some even install an LED screen for churches and optimize their worship activities. In fact, a UK-based study claims that the global market for LED displays is expected to grow to 19.5 billion USD by 2026, which is a 21% increase from the 2021 numbers.
Churches and religious institutions started using LED screens to improve their activities and events. Enhancing the worship experience by installing a large LED screen for the church can only encourage more people to attend and serve. If you want to get the same thing for your congregation, make the most out of this powerful tool in the best way possible. Start by learning more about it. 
What Is an LED Screen for a Church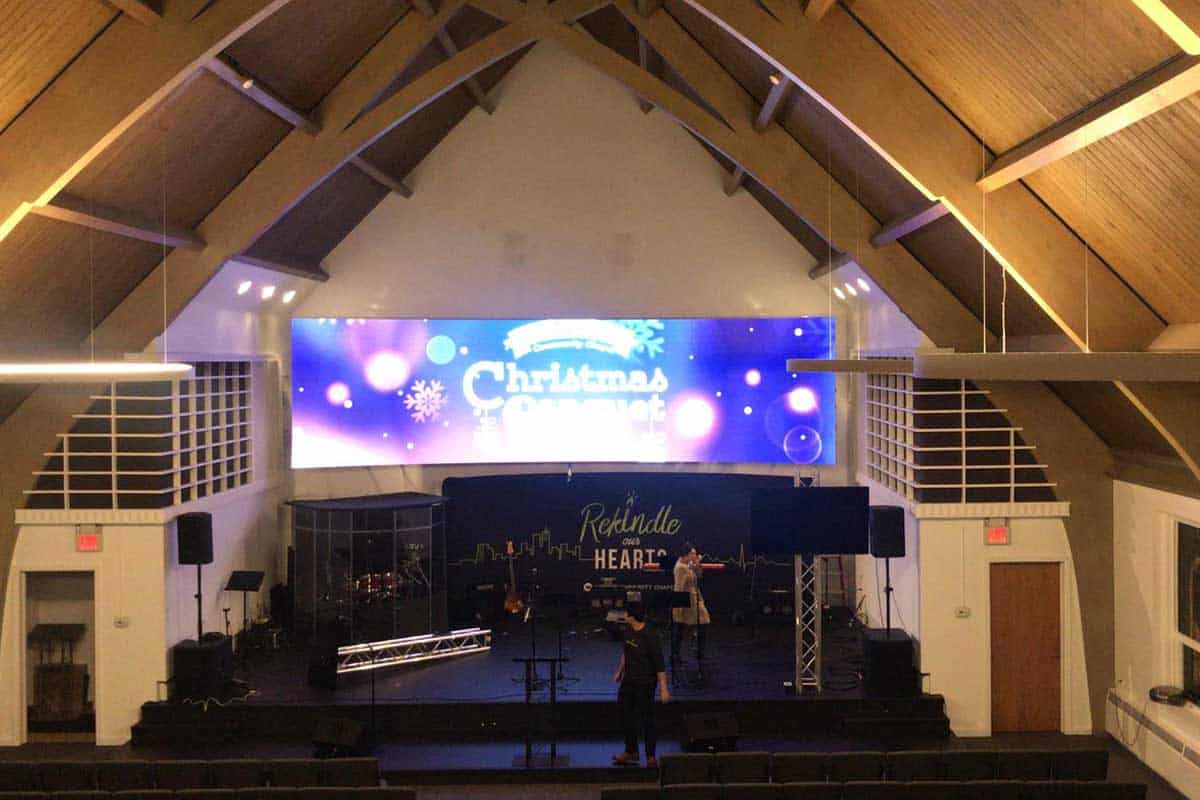 An LED screen for church simply refers to a video wall or display used inside congregations and religious venues. There are now many church screens for sale you can consider if you want to give one to your church too.
LED screens are now among the trendy and wise tools that can be installed in the church. Beyond showcasing their advanced technologies, these screens are multi-functional and can be used in many ways. So if you are checking out an LED screen for church, it may be a good idea.
LED Screen for Church Applications
Before you start skimming on LED screens for churches for sale, you first need to decide where you want to install the displays. Here are two popular applications for an LED screen for church.
Indoor church LED screen – This is when the LED display is mounted on the walls of the churches and congregation. It is the application that is ideal for LED screens used in church operations. In this case, a P2.5 LED display is a good choice.
Church stage LED screen – This application is perfect for church venues, where bigger events and occasions are held. Since more reach is necessary, larger screens with high visual standards are better. These screens require more meticulous assembly though and will need labor and time to install.
Possible Content & Use
When installing an LED screen for a church, one of the things you need to take into account is the content and purpose of the display. This will affect the size, location, and even other specifications of the LED display you will choose. Here are some of the most common uses and content for an LED screen for a church.
Announcements
Sermon points and notes
Bible scriptures
Bible studies and teachings
Song hymns and lyrics
Live worship video
Upcoming events promotions
Newsletter
Social media information
All of this content can be displayed and presented in different multimedia avenues like slides and bulletins. You can put sermon points in bulleted form and present them in slides you can skim through your LED screen for church. You can get as creative as your content allows you to, from eye-catching graphics to exciting videos.
Church Screens for Sale Prices
An LED screen for the church needs to be big enough to be seen by the members of the congregation who need to look at it. If you're checking out prices to finally donate one for your ministry, these LED screens can range from $1,000 to $10,000. Low-res LED displays range from $1,000 to $2,000 while those with high resolution range from $5,000 to $10,000 so make sure you consider your budget perfectly when planning for your purchase.
Benefits of Using Led Screens in Churches
More churches and religious institutions are now using LED screens in their events and operations. The main reason for this fast and conquering adoption is because of the benefits it offers. Here are some of the benefits of getting an LED screen for church:
Promotes a more engaging and immersive worship experience
Adding LED screens to church and religious institutions' operations can help turn the entire experience into more engaging and immersive worship. Members of the congregation and community will be more enticed to attend worship and gatherings.
Showcases a more advanced and proactive way of worship
With the addition of an LED screen for church, members can easily see song lyrics, bible scriptures, and sermon notes to follow the order of the worship and activities. Besides the added modern aesthetics to the church, the LED displays also serve as an advanced tool for worship. They can show a live feed of the worship team to get the vibe going and allow the members to follow what's currently happening.
Offers an affordable & energy-efficient new tool for worship
When availing church screens for sale, the purchase will serve as a smart investment. The screens are cost-effective since they are durable and can last for a long time. They can be used for at most 50,000 hours. While they are not cheap, they are energy-efficient.
An LED screen for church is a more affordable option compared to a projector. It is the ideal choice for a religious event and with a size that can be customized to be suitable for the occasion. Other specifications may also be customized like the brightness. They also feature more vivid images with less distortion.
Factors to Consider When Choosing an LED Screen for a Church
Choosing an LED screen for a church requires the consideration of several factors in order to get it right. If you're on the hunt for the ideal display for your congregation, here are some of the essential elements you need to look into. 
LED Screen Sizes
LED screens come in different sizes and one of their major advantages is that their size and shape are limitless. But in the case of LED displays, the size and shape of the screen should match its purpose, whether as a stage LED display or a wall-mount screen to help in the ceremonies.
A standard LED screen for the church measures around 8 x 4.5 meters to accommodate a 16:9 image. These displays often consist of square panels measuring 0.5 meters. Take into account if this size is the right one for you. 
Specifications
The specifications of the LED screen are also taken into account, from the brightness to the pixels. Outdoor LED screens tend to be brighter than indoor LED screens so if you're setting up an event for your church outdoors, make sure to take this into consideration. The specifications will dictate the quality of the LED display so make sure you decide carefully about this factor.
Installation & Location
More than just the shipping and installation charges, there are also other elements that come with purchasing an LED screen for the church. Accessories for the installation will be added to your purchase so make a choice based on how the display will be installed. 
Some may have wall-mounts that are heavy while others come with lightweight aluminum cases. The most important thing is to establish a stable foundation for the LED screen where it won't fall over or disassemble. It's one of the reasons why trusting the expertise of the professionals is worth spending on.
Another element that can influence the installation of your LED screen for the church is the environmental condition of the location you've chosen. Whether you're planning to install it in an auditorium with dim surroundings or outdoors where weathering elements can damage the screen, all of these factors need to be taken into account.  
Viewing Distance
The viewing distance from the front to the area where the audience is. When the screen is too close, it can be a bit dizzying for the audience. It's the reason why you need to take into account the distance of the audience to the screen so as to avoid these incidents.
Budget
Finally, one of the most significant factors that can influence your purchase of an LED screen for church is your budget. All of the other factors will be taken into account when you look into your budget. The increase or decrease in prices will affect your purchase since you will only be successful if your budget meets the price.
Here are some of the factors that can increase the price of the LED display and will make it difficult for you to afford your chosen LED screen for church:
Small pixel pitch
Large sizes
High brightness
Wider color gamut
Complex installation
Unique type of LED technology
Far shipping address
Added installation accessories
Extra service charges – insurance and maintenance services
These are only some of the factors you can adjust and check out once you're having a hard time matching your budget with the price of the screen.
Tips for Using an LED Screen for Church
Before you go out to finally get that LED screen for church, here are some practical tips worth trying out.
Consider the size and shape of your church when choosing your LED screen
Make sure you go to your budget every now and then
Don't forget to take into account the installation and maintenance requirements you will have to pay for
Check out more than one supplier and consider several LED displays before making a final choice
Choose a local supplier than someone overseas to avoid paying high delivery and shipping charges
If it requires a simple installation and you can do it, DIY the entire thing
Conclusion
Purchasing an LED screen for the church will bring an incredible improvement to your institution's activities and your members' worship experience. Consider it as an investment of your faith but make sure you choose the right LED screens for churches for sale to avoid regrets.